Located in zone 1, Bayswater studios are small apartments with fully equipped kitchenette and private bathroom. Each apartment comes with double bed, fitted wardrobe, LCD TV, dining table and two chairs, air-conditioning, internet connection, self service laundry, weekly maid service. Bordering the beautiful Hyde Park, Bayswater offers an incredible choice of restaurants, stores, and hotels than any other London region.
Price per week (£)
| | |
| --- | --- |
| Single Studio | From (Oct-May) £588 per week |
| Single Studio | From (Jun-Sep) £616 per week |
| Double Studio | From (Oct-May) £658 per week |
| Double Studio | From (Jun-Sep) £700 per week |
| Availability | All year |
| placement Fee | £50 |
| Nearest Tube Station | Queensway (Central Line) |
| Time to school | 15 minutes by underground / 25 minutes by bus |
| One-off Cleaning fee | £36 |
| Meals | Self catering |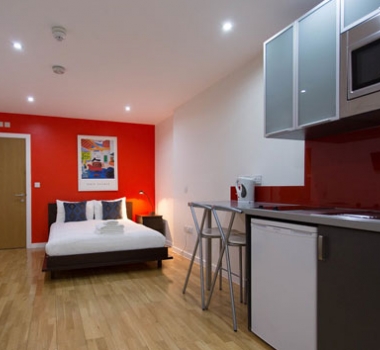 Take the bus 94 from Palace Court bus stop to Oxford Circus station (11 stops) or take the Central line towards Hainault Underground Station, Epping Underground Station or Newbury Park Underground Station from Queensway station and get off at Oxford Circus (3 stops).
The Tube and buses play a big part in the lives of Londoners, connecting people and places across the capital. Find out more about travelling around here.
More accommodation options
We have paid special attention to our homestay service guaranteeing students a comfortable and welcoming stay while in London…
Student All-Year Residence
For a more independent stay, we organise student residence accommodation through partner agencies or directly with the residence…
Do you like this residence?
We are committed to protecting your privacy
With cancellations made 15 working days or more prior to arrival, monies paid will be refunded less an accommodation finding fee of £50. Refunds, where applicable, may take up to 14 days.
Fewer than 15 working days' notice before arrival and any time after arrival: no refund can be made.